Being Thankful!
Hi, it is Jane checking in once again. As I Canadian, I recently celebrated Thanksgiving and I thought I would share a bulletin board idea that you might like to make in the upcoming weeks. We wanted a school wide display for all 800 of our grade five to nine students to be a part of. I made different templates with the writing stem "I am thankful for" and students had to finish the sentence and illustrate their statements. Once they were all complete, I made a large "Be Thankful" sign using black poster board. My class helped to place all the statements around the sign in the main hall of our school. It was a simple display yet a powerful one.
I would love to pass through the hall and see students gathered looking at and reading the different things students were thankful for. You can get the

free

templates here if you would like to give it a try at your school.
This upcoming week in our Canadian schools we will be thanking and honouring the soldiers past and present on November 11, which is our Remembrance Day. Every year I like to spend the week completing various activities related to this special day. One of my favourite books to read is A Poppy Is To Remember.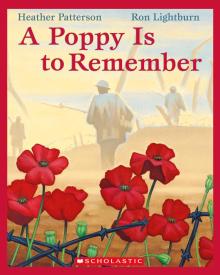 After we complete this book I also have my students do a water colour painting. All you need is painter's tape and blue and green paint. I got the idea from searching the internet for an art project a couple of year ago. You can see the original post here. It explains how to complete the painting step by step. My students are always so proud of their finished product and they look wonderful on display.
The finished product!