This week my kindergarten class will be learning about windy weather! I have created a Windy Weather Center freebie for teachers to use with their weather themes. I have also listed several books that are great to read to your class about Windy Weather.
This center also corresponds with the new Next Generation Science Standards (NGSS). The NGSS that correspond with this lesson for kindergarten: K-ESS2-1 -Earth Systems and K-PS2-1 Motion and Stability.
Will the Wind Blow? Center
Children will sort items by whether or not they will blow in the wind.
A photo of the back of the center label card with instructions
Worksheet to reinforce windy weather skills.
You can download this file for free from my TpT store: Windy Weather Center
Windy Weather Books
Here are some books that I will be reading with my class this week that revolve around the wind.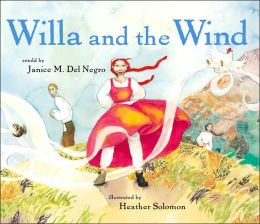 Willa and the Wind by Janice M. Del Negro follows a girl named Willa who is a strong, courages, and bold girl. Willa confronts the North Wind to ask for her cornmeal back. The wind gives the cornmeal back but the innkeeper steals the cornmeal. Willa believes that the wind is playing a trick on her.
Little Cloud and Lady Wind by Toni Morrison and Slade Morrison is another favorite of my students. Little Cloud decides not to stay with the other clouds. Little Cloud "Not wanting to blend into a group and loose her freedom, not wanting to frighten the earth, she found a quiet place in the sky."
Comes A Wind by Linda Arms White is a huge crowd pleaser with my students. It is a funny story of siblings who try to one-up each other. They promise their mother on her birthday to get a long and keep peace; however, they revert back to their rival by one-upping each other. While this is happening they do not recognize that a big wind has come and is carrying everything away (including their mother!) The boys stop their squabbling long enough to save their mother.
Bag in the Wind by Ted Kooser is a fantastic book. Ted Kooser's book follows a bag that has been swept away from a garbage truck by the wind as it passes by people in a small town. Some recognize the bag while others are oblivious to the garbage floating in the air. This book is a great book to read to your students about waste, landfills, and ways we can re-use items with keeping with a wind theme.
The Winder Blew by Pat Hutchins is a classic story that I read with my students every year. A big wind comes to a small town and blows items from the people. They try to catch their items but the wind is being tricky. This story is a great story to read before implementing the centers from above.
Windy Videos
I could not talk about windy weather and science without talking about Billy Nye! Bill Nye has a serious of DVDs that are produced by Disney on many science topics. These DVDs are full of entertaining skits that help students learn about particular science skills. This week we will be watching portions of Billy Nye the Science Guy's DVD on Wind.
A clip from Billy Nye the Science Guys' DVD on Wind.